Brand logo painted on the wall of the new cold chain center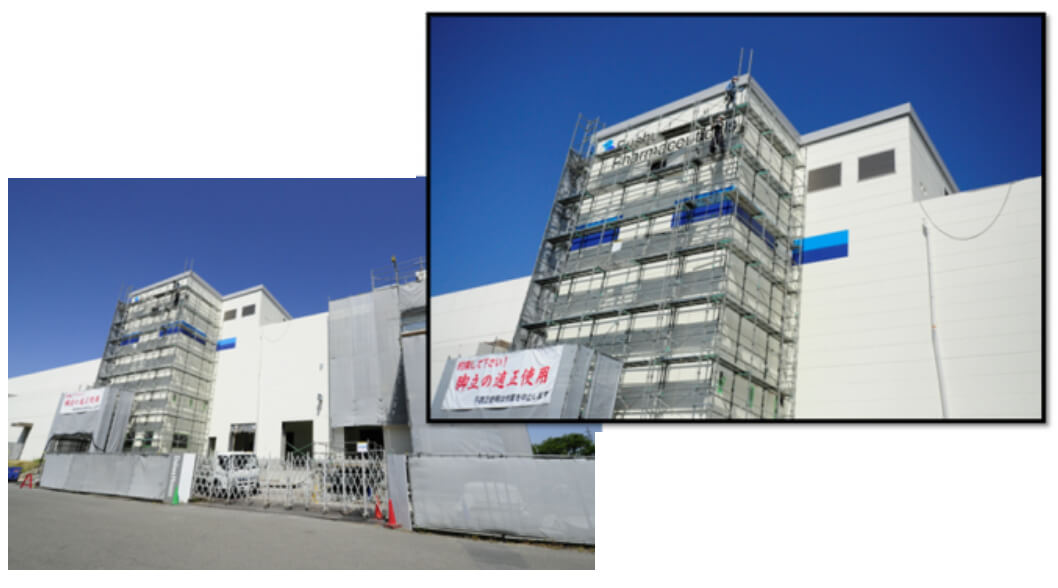 Under the blue sky, Bushu Pharma's brand logo type was painted on the wall of the new cold chain packaging & storage building at Misato site on May 14, 2020.
Ensuring product integrity and security throughout the supply chain has always been a top priority for biopharmaceutical manufacturers.
Representating a new solution from Bushu Pharma, construction of the new Cold Chain Packaging & Storage Building has been proceeding smoothly since last September, 2019.
The facility will be a key part of our "Gateway to Asia" service during the COVID-19 pandemic and after.
"This is the best solution to accommodate the strong expansion of temperature-controlled bio-pharmaceuticals (2 to 8℃) for the Japanese and global markets. We continuously invest to become a comprehensive CDMO in Japan. Bushu meets the changing demands of the market."
Many of the pharmaceutical and biologic drugs sold today are extremely sensitive to the conditions in which they are packaged, shipped and stored, with temperature deviations effecting the quality of product delivered. We're making efforts to address it, to help improve the packaging/storaging process which must be validated to ensure that there is no negative impact to the safety, efficacy or quality of the drug.Details of the new cold storage building

1. Floor area:
1st floor: 1,554m2
2nd floor: 1,274m2 3rd floor: 1,252m2
2. Use: Refrigerated packaging, General secondary packaging, Packaging inspection, Cold storage
3. Storage capacity: 300 pallets (phase 1), 600 pallets (phase 2) and 900 pallets (phase 3) (2 to 8 °C)
4. Earthquake countermeasures: The most suitable vibration reduction equipment can reduce shaking motion up to about 1/2
5. Business continuity planning: Continuous operations for one week with in-house generator and heavy oil storage
6. Others: Achieving appropriate temperature control from receipt to delivery (Pre-arrival room: 2 to 15 °C, handling area: 2 to 8 °C)
CONTACT
As a company specializing in contract manufacturing of pharmaceutical drugs, we offer a wide range of contract services tailored to clients' needs based on our extensive experience and know-how accumulated over many years.