President Takano's special lecture "Realization of Pharmaceutical Cold Chain by Bushu Pharma"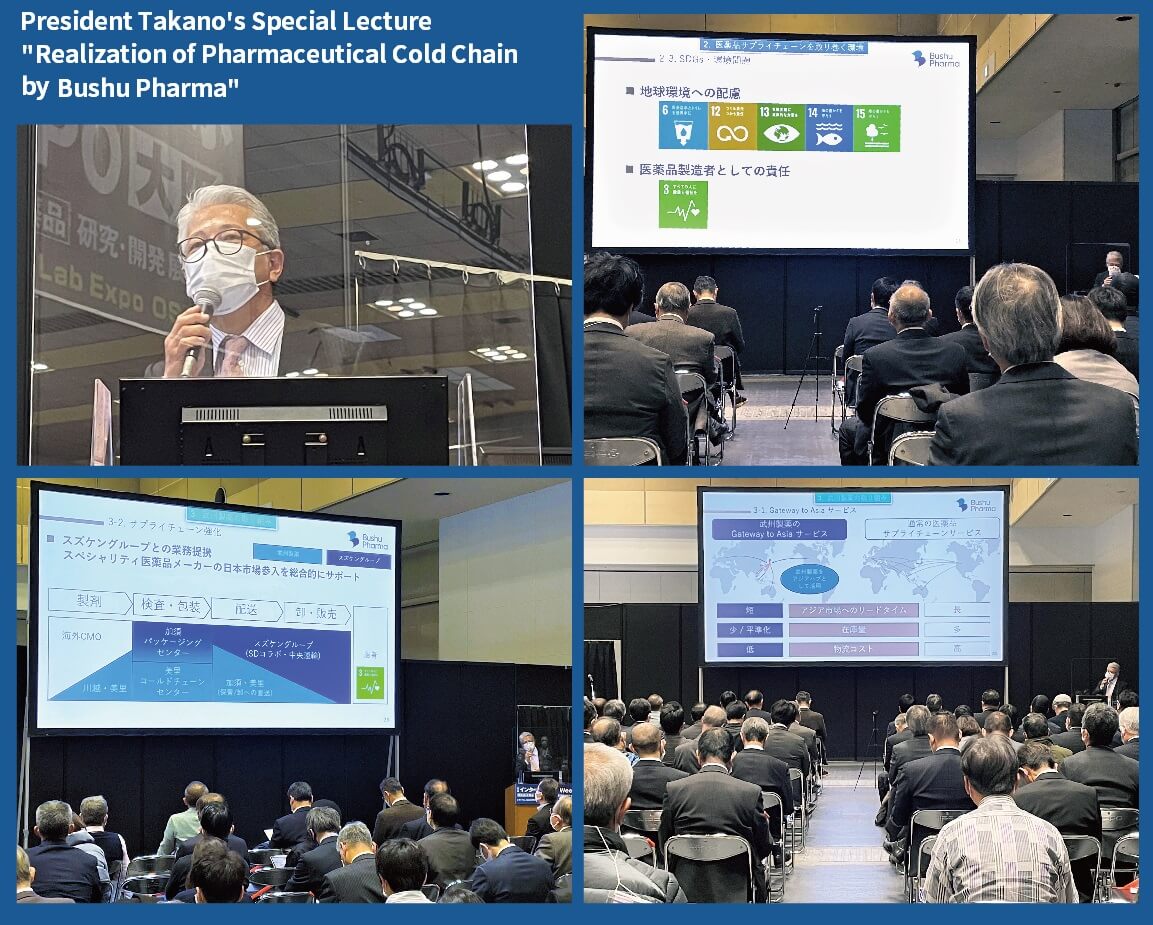 On March 10, 2022, Bushu Pharma President and COO Tadao Takano gave a special lecture at Interphex Week Osaka addressing the supply chain of pharmaceutical manufacturers based on the latest global GDP standards.
The lecture summarized the environment surrounding the pharmaceutical supply chain, where GDP (regulations), SDGs, and environmental issues are important to address as the market for gene therapy drugs and nucleic acid drugs, which require manufacturing, storage, and transportation under low/ultra-low temperature conditions, continues to grow at a remarkable pace. President Takano then introduced Bushu Pharma's Gateway to Asia services and what the company is doing to strengthen its supply chains, including cold chain centers, with initiatives like the company's business alliance with Suzuken Group*. He also referred to possible future developments, such as joint transportation proposals and the strengthening and expansion of manufacturing facilities and human resources.
Finally, the lecture was closed with the message that Bushu Pharma hopes its services can be part of the solution to the various challenges facing the pharmaceutical supply chain, and that through the efforts of the entire industry, including pharmaceutical companies – many of which are clients of Bushu Pharma, our peers, and vendors, Japan will be able to provide full-scale solutions to the global pharmaceutical market.
Suzuken Group*: Bushu Pharma's partner, Suzuken, has played an industry-leading role in the pharmaceutical distribution sector in Japan. Suzuken, one of the largest companies in that sector, possesses a distribution network in Japan that can support the international transportation of specialty pharmaceuticals.
CONTACT
As a company specializing in contract manufacturing of pharmaceutical drugs, we offer a wide range of contract services tailored to clients' needs based on our extensive experience and know-how accumulated over many years.